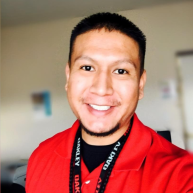 Eric Watchman, Class of 2014
IT Specialist at Navajo Technical University – Chinle Campus
Yá'át'ééh!
My name is Eric Watchman. Haltsooí (Meadow People) nishlí dóó Tódích'íi'nii (Bitter Water) báshíshchíín. Táchiinii (Red Running into the Water) éíí dashicheii dóó Kinyaa'áanii (Towering House) éíí dashinálí. I am extremely proud to be an Alumnus of Navajo Technical University. In May 2014, I graduated with a bachelor's degree in Information Technology and Computer Science. I currently work as an Information Technology Specialist for Navajo Technical University's Chinle Campus.
My college experience has been the most valuable because it has given me the skills and knowledge to communicate effectively, both in academia and in society. I am fortunate to have continued my college education here at Navajo Tech because I gained the necessary tools to thrive in today's contemporary and fast-paced world. There are many lessons, tasks, and obstacles that I had to overcome as an NTU student.
The most valuable lesson I learned was the ability to communicate effectively, both in Diné Bizaad (Navajo language) and English (Bilagáana Bizaad). I understood that later in my professional career I would utilize these skills and it would be one of my strengths, both personally and professionally.
As a Diné student, my passion is researching all the amazing and wonderful contributions our Navajo culture yields. I was attracted to Navajo Technical University because the mission statement incorporated the traditional Diné principles of Nitsáhákees, Nahátá, Iína, Siihasin. Even before attending NTU, I fondly remember growing up in Twin Lakes, New Mexico and my maternal grandfather would emphasize these principles as important to our identity as Diné. I acknowledge these teachings today and I'm thankful for our continued use of our language, in everyday conversation and spiritually. These are the values I learned as an NTU student and I continue to adhere to them in my daily and professional life. When I read NTU's mission statement, it resonates with me, captures my attention, and reminds me of my responsibility to our students, to our communities, and to our people.
My NTU experience was great! I strived to be an outstanding student, often challenging myself to make the most of my college career. I volunteered to lead classroom projects to improve and showcase my leadership skills and I always asked questions during classroom discussions. In my pursuit of excellence, I took the initiative to conduct research in addition to what my professors were teaching me. I became selfish with my studies because this was my time to shine and grow, both personally and academically. I understood that I was sacrificing a lot and that it would benefit me later in life. In my current position, I reflect back on those days and thank Navajo Technical University for giving me the opportunity of endless possibilities. I am grateful. Ahéhee'!