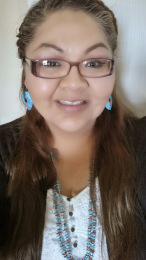 Yá'át'ééh!
Shí éí Sherietta Martinez yinishyé. Tł'ááshchí'í (Red Bottom People) nishlí dóó Tábąąhá (Water's Edge) báshíshchíín. Tó'aheedlíinii (Water-Flows-Together) éíí dashicheii dóó Dibé Łizhiní (Black Sheep) éíí dashinálí. I am proud to be an Alumna of Navajo Technical University and to work for my Alma Mater. In May 2015, I graduated with a bachelor's degree in Information Technology-Computer Science. I currently work as STEAM Student Support for the STEAM Lab at Navajo Technical University's main campus in Crownpoint.
I began my education with Navajo Technical College, earning my certificate in legal assistantship and associate of applied science degree in law advocacy in May 2012. In completing these programs, I knew I could achieve more so I entered the bachelor's degree program for IT.
If I had to sum up my NTU experience in three words, they would be: persistence, validation, and achievement.
Persistence is what drives you to find opportunities, resources, and teachings to be a successful student and person.
Validation helps you to achieve a sense of personal growth and personal significance. While every decision that you make will either be a blessing or a lesson learned, realize that you matter in the universe. Finding validation is what motivates you and keeps you focused on your goals.
Achievement helps you to understand the progress you've made and the growth you've experienced. Your achievements will help you overcome challenges in your life and to attain success.
I define student success as "a student who has successfully made their choice of study final and pursuing with full focus and intent." NTU students can be successful. I know this because I've seen it, time and time again. If you can clarify your major and persist, you can finish your degree and look for additional opportunities to broaden your skills and knowledge in your desired field. There is no holding you back once you figure out your course in life. Doors will be open to you, but they can also be closed. Continue working hard and you'll make it. Believe it or not, NTU has many connections and I encourage you to seek out those opportunities. It all depends on how bad you want to succeed and what you are willing to endure to achieve it. Excel in your grades and show your knowledge and skills. Then, you will be recognized as an asset to outside businesses and organizations.
As an NTC, and later NTU student, the most valuable thing I learned is that you can achieve your dreams and goals while remaining on the reservation. There was a time that I thought it was impossible to complete a bachelor's degree, but through challenges and tribulations, I succeeded by opening myself up to opportunities. Eventually, I was able to achieve my dreams and goals. The key to success is taking advantage of every opportunity that presents itself. Now, I apply this teaching to my everyday life.
As a student, I wish I had known the possibilities that exist when you take advantage of every opportunity offered. I would have worked more with major organizations, not letting fear of leaving the reservation intimidate me. I would have applied to more internships and stepped outside of my comfort zone. Regardless, I continue to persist and strive towards greater opportunity despite limitations that I may set for myself.
Today, I am continuously moving forward. My current goal is to obtain my master's degree in Educational Technology from Northern Arizona University while working with NTU. After teaching a computer class here at NTU, I also reaffirmed my long standing passion of teaching at a tribal university or college.
I share my story with students in the hope that they will understand the necessity of obtaining a college education. In today's fast-paced world, it is necessary to achieve high levels of education. I fuel this passion by working with students on a daily basis, sharing with them resources and passing on knowledge that may help them work towards achieving their educational goals. This support may come in the form of sharing personal narratives or listening to students and being the shoulder they lean on when they need it. At the end of the day, I find fulfillment in helping students and motivating them to succeed despite challenges. I carry this strength with me in my personal life and live to be my family's role model.